Us By Night 2019
Antwerp's big wild design festival returns with new venue, new end-of-summer dates, same big-hitting creatives and nighttime revelry...
Words: James Davidson / We Heart
"It all started as a big wild guess," Us By Night founder Rizon Parein told We Heart in 2017 of the previous year's debut edition, "but it turned out to be a huge success; way beyond our expectations. We had over 5,000 visitors."
Last year, the creative extravaganza was sold out more than two months prior to the event, and attracted some 6,000 visually-enamoured punters from more than 30 countries. Some big wild guesses pay off with big wild success. Gearing up to be bigger and wilder than its previous three years, 2019 sees the return of Us By Night, whilst welcoming a new venue and new dates.
With a capacity of 2,500 per night, Antwerp's industrial 'riverside castle', Waagnatie, will welcome visitors to the event's fourth edition over the course of three inspirational nights between 26—28 September; two months earlier than previously, giving rise to the prospect of a more summery festival feel for the boisterously brilliant amalgam of creative keynotes and post-apocalyptic nighttime revelry.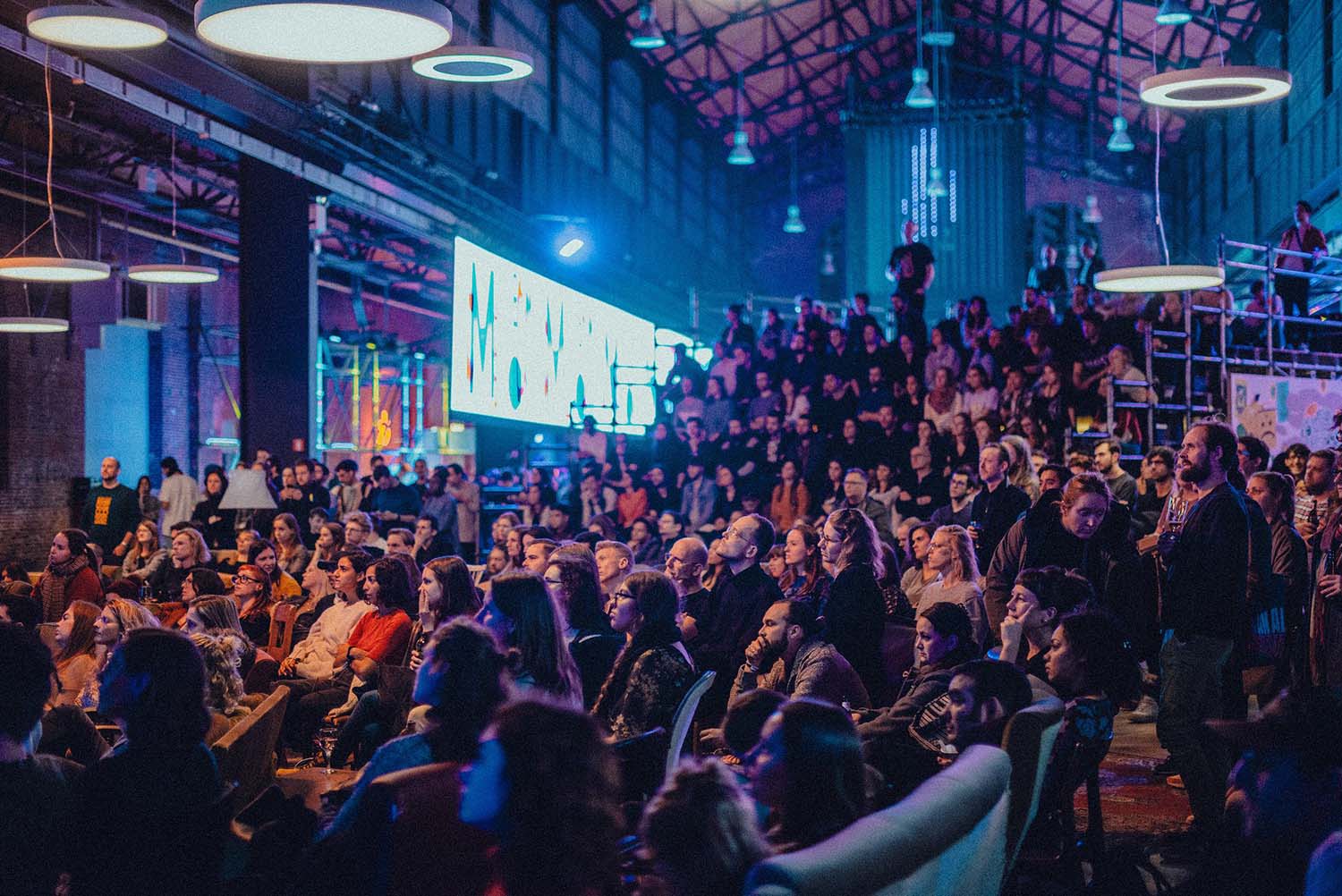 The revered Nightmarket returns with its "Times Square cum Blade Runner cityscape" bringing aesthetic chaos to surround the three stages; XXL LED walls, interventions and installations, a food court with craft beers and cocktails, and creative market delivering high on the merrymaking. An outdoor section on the riverbank will take advantage of this year's earlier dates.
Having attracted names from Craig & Karl to Neville Brody, Mr. Bingo to Joshua Davis, Alex Trochut to Leta Sobierajski and Wade Jeffree, Us By Night 2019 promises to be no less packed with big names from the worlds of design, art, fashion, architecture and beyond. With the likes of colour-crazed Memphis goes op-art virtuoso Camille Walala, analogue meets digital light experimentalist Chuck Anderson, and celebrated Swiss type foundry Grilli Type today joining names like Buck, Serial Cut™, Bozarthfornell Architects and Fredrik Bond, the keynotes accompanying those nocturnal festivities are worthy of Us By Night's big wild reputation.
"Less serious, more fun," stated Parein when asked to summarise his 'creative theme park'. Returning bigger, better, and earlier than ever, expect that fun to the power of ten. Tickets are available now for Us By Night 2019's three nights of the perfect creative storm; 26—28 September, Waagnatie Antwerp.
Share